Co-ranks are skills that your character develops outside of caring for the pack - it is their 'specialty', so to speak. Characters can have more than one co-rank, and one co-rank can be owned by more than one character.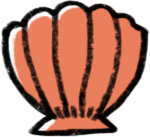 To earn a co-rank, you must complete two threads pertaining to your co-rank skill - for example, a character pursuing the 'medic' co-rank could submit one thread where he bandages a packmate's wound, and another thread where he is tending to medical herbs. The co-rank skill must be the focus of the thread (i.e. Wolf heals Coyote over the span of five posts whilst talking to him (good!); Wolf heals Coyote in one post and it is not mentioned again (bad!))
All threads must follow our completion rules. Once you have completed those two threads, feel free to submit them to leadership with the following form!
Want a co-rank, but don't like any of the ones listed below? Complete your two threads for a custom co-rank of your choice, and it will be given to you and added to the list!